I often sing or hum when I am working, which my wonderful husband uncomplainingly puts up with. I have a tendency to sing a the same few songs repeatedly, to the point where I don't even notice. One of those songs is Daisy Bell – otherwise known as Bicycle Built for Two.  Inspired by this musical tick, I thought it would be fun to do a set of daisy themed kanzashi.
Since I haven't worked on any new kanzashi in a while, I wanted to stretch myself a little. I wanted to do two-toned petals again, and thought it would be nice to mix classic white daisies and white and yellow daisies. I started out with these two single flower pins.
I experiment a lot with new techniques when I work, and I had originally planned to dip the fuzzy yellow millinery stamens in brown glitter paint to mimic black eyed susans. The effect was disappointing, so I decided to leave them as they were.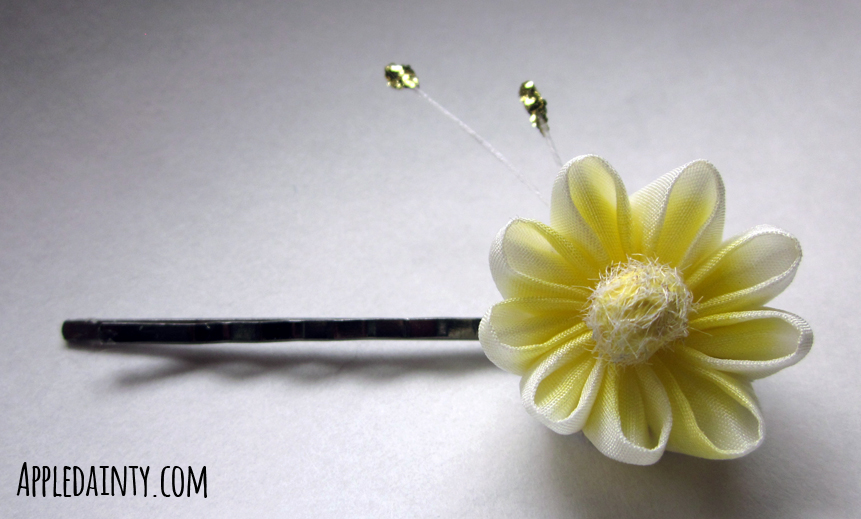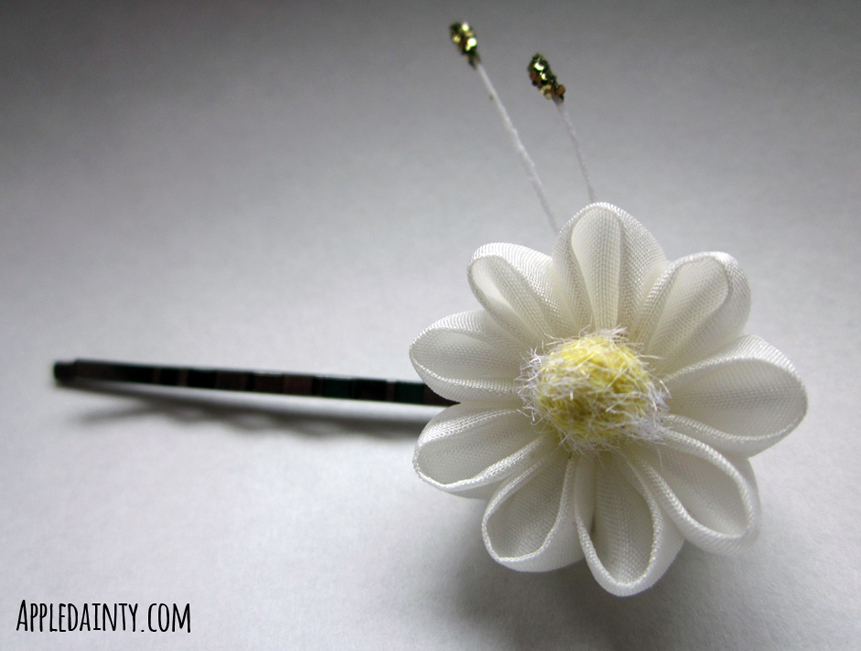 I completed the trio of flowers next, and added a 'plucked' petal. It matches with the theme of childhood games and songs, recalling the game 'love me, love me not' wherein you pluck petals from a flower one at a time until you get your answer. I thought it would be a fun addition to the set.
When I started working on the cluster of flowers, I realized I could use some curled brown-gold mizuhiki that I've had squirreled away for a while to create brown centers. I mixed it up by adding brown centers to the yellow daisies and yellow fluffy centers to the white daisies. With the addition of a bit of sparkly green mizuhiki and glittery gold millinery stamens, my large cluster of daisy kanzashi was complete.
I am pretty happy with how this set turned out, and I still have a lot of two tone yellow and white petals. Now that spring has finally sprung (despite the snow we had yesterday, ugh!) you can be sure that there are plenty more kanzashi coming soon! What kind of floral creations would you like to see?
If you're interested in these daisy kanzashi, they are now available in the Shop.
Check back next week for more art, crafts or cookery!