You know, I was trying to post new blog entries every Friday, but lately that just hasn't been working out. So, I've decided I'll just start posting these blog entries whenever I've finished something.
I started this piece a few weeks ago. It was a supposed to be a smaller, side project that I could use to build up my portfolio for an upcoming jury session with my local craft council, but ended up being bigger and more involved than I had anticipated.  Still, I am really proud of the result.
Dip resin is still really new to me, and I still feel that I have a lot to learn about this material. While I've been learning about dip resin, and my etsy shop has been closed, it's given me a lot of time to think about what direction I'd really like to go in as far as making art to sell.
The more I think about it the more I think I want to move away from doing smaller things like single flower pins, and concentrate on my canvas + kanzashi and unique or custom work. Making wearable art is what I really love doing, and I want to spend my time doing what I really love.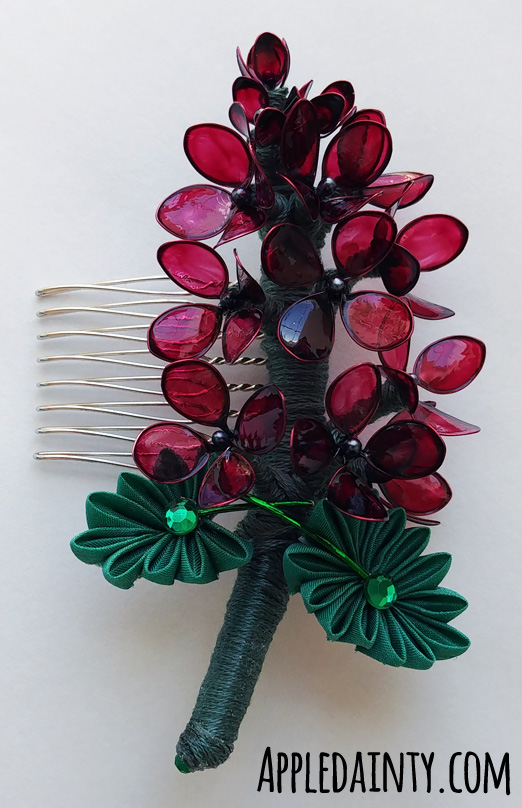 I haven't finalized any of these ideas yet, but I think what will end up happening is that I'm going to rename my shop and change its focus from every day kanzashi to a more couture style. The blog is going to remain as it is, I will still post about my kanzashi work, but the shop will be more of a portfolio-style showcase of my best kanzashi work.
I love this blog. I've had this handle and website since University, and I still think it's very much who I am. But, it doesn't necessarily convey the feeling that I want to achieve now with my fine kanzashi craft. Not only that, but I post a lot on here about things outside of kanzashi pieces, and people who come here looking for tsumami craft maybe aren't all that interested in how my house renovations are going.
That's what I was thinking about when I was finishing the binding on this comb. That, and my friend Crystal's wedding, which is coming up in February next year.
I make art as gifts quite often, but there's always some trepidation there; especially for events that are so personal as a wedding. I never want my friends to feel like they have to use my gift for their wedding; people should be able to choose what they want to look like for their own wedding day. So, while I do try to offer to make people things, or help them if they would like help, I don't want them to feel obligated. So, this piece isn't really meant as a gift for Crystal, but more inspired by her and our friendship.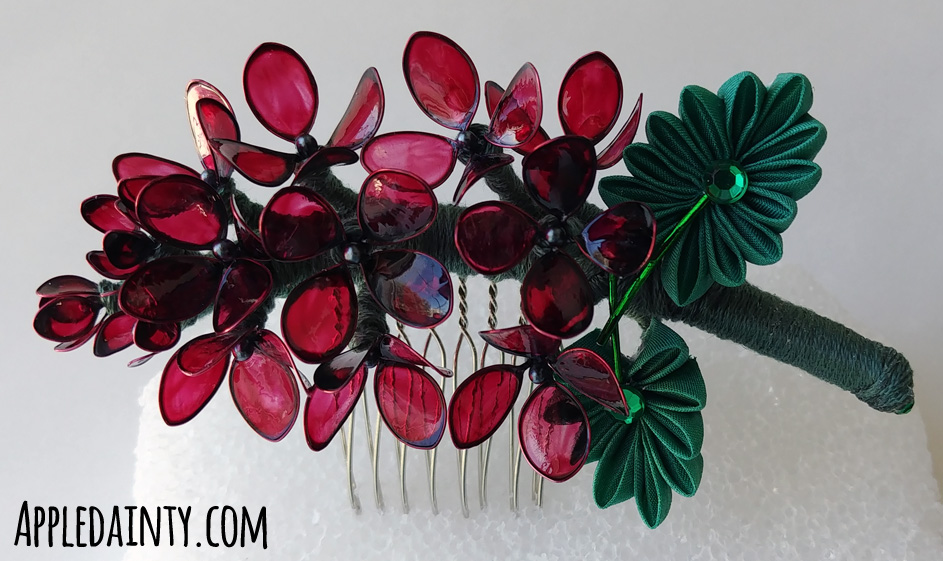 I met Crystal when we were 12 years old, in junior high school. We both liked anime, comics, and games. I was a bit flighty, and a bit soft. Not stupid, but small and naive. Like my Mom, I'm a pleaser. I want to make everyone happy. I was lucky enough, from a young age, to be surrounded by friends like Crystal who kept me from being bullied and never made me feel like there was anything wrong with being exactly who I am.
Crystal is a natural protector, and when I think of her I think of strength. She is hard in ways that I'm soft, has little patience for stupidity or laziness, is deeply intelligent, and stylistically a bit edgier than I am. But, still undeniably feminine and beautiful. From her, I learned that it was ok to speak up, and that I don't have to put up with bad situations or people. I also think my love of red hair (a lot of my original characters have red hair) also comes from her, since she has long, red hair.
I knew when I started this piece that I wanted to make a lilac flower. Lilac flowers are usually a lovely shade of purple, which works nicely against auburn hair. But, I thought I would go dark, with a deep burgundy purple and black pearlescent centers. It definitely reminds me of Crystal; to me this piece speaks of modern, elegant beauty with a hint of an edge. Soft silk leafs against crystalline petals, and rich, dark colors.
I like  how this piece turned out so much that I'm planning on making a piece for the wearable art exhibition (which hasn't been announced yet, but it should be soon) based on it. I'm planning on doing a tulle cape-veil made from champagne silk tulle and lilacs that wrap over the shoulders to hold the cape in place.
Anyhoo, that is about all I've got for this week. If you like this blog and want to help support it, consider buying me a coffee. Your support is greatly appreciated, and I hope that you check back again soon for more art, crafts, and creativity!