My  time quarantined at home is coming to a close, as I finally found a new job and will be starting on Monday. As such I'm spending this weekend trying to wrap up as many of my current projects in progress. I'd be lying if I said I wasn't a little bit sad about going back to work. As stressed out as job hunting was, I finally found my stride in terms of creating new works of art and had was turning out some pieces I'm really proud of.
This fancy gold fish uchiwa (fan) is one such piece. I've always loved summer kanzashi, and have had a large kingyo uchiwa on my list of dream kanzashi projects for quite some time. I wanted this piece to be as close to a master work as I could make it. I think the only thing I would change if I could go  back is the handle; I'd maybe want to use a thicker material for it. But, otherwise, this piece is everything I was hoping it would be.
I started this piece by crafting the wirework flower that the fan sits on. Once I completed the large flower, I created the wire frame for the uchiwa and backed it with organza. I designed and cut the paper fan handle for the uchiwa with my Silhouette curio, affixed it to the uchiwa frame, then added the decorative flat back faux pearls to it. After completing the base of the fan, I started working on the holographic film stream.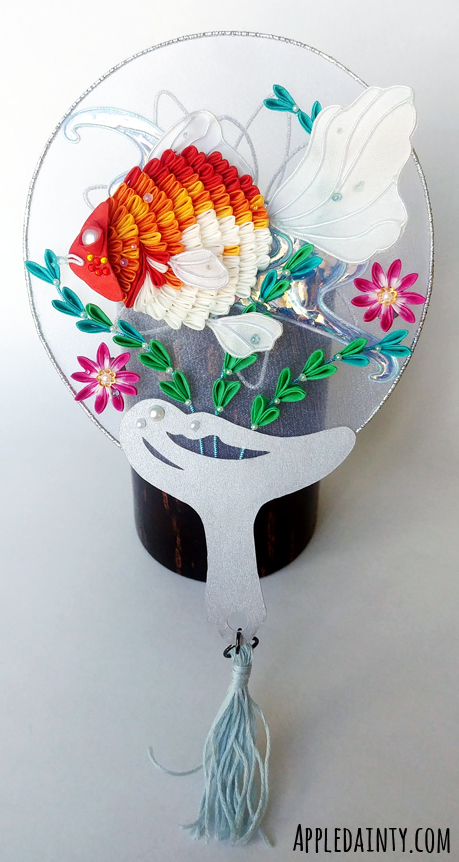 Although most of the stream is covered by the goldfish, I am very proud of how well it came out. I'm planning to make a larger stream kanzashi with two smaller fish when I've gotten through more of the exhibition collection pieces I have planned. To make the stream I drew out a pencil sketch, used tweezers and pliers to form the wire according to the sketch, and attached all the wires together using UV resin. Once I had the wire frame together, I backed it with holographic film, and applied a layer of resin over the top. I attached the stream to the uchiwa using UV resin as well.
I worked on the goldfish next, crafting a base for it from chipboard that I covered with chiyogami paper. After applying all the tsumami craft scales, I created a face section for the fish by covering a piece of bristol board with silk, made gave it some wire lips and an eye made from a petal with a large flat back pearl tucked into it. I added some red and yellow rhinestones as well, to represent scaley round cheeks that are common on fancy goldfish.
I wanted the tails of the goldfish to be texturally different from the body of the goldfish. So, instead of using petals to craft the tails, I created wire frames using the same process that I used to make the stream, backed it them with white silk, and glued them in place. The goldfish is the central element to this piece, so once it was glued in place it was much easier to decide how I wanted to arrange the seaweed and flowers.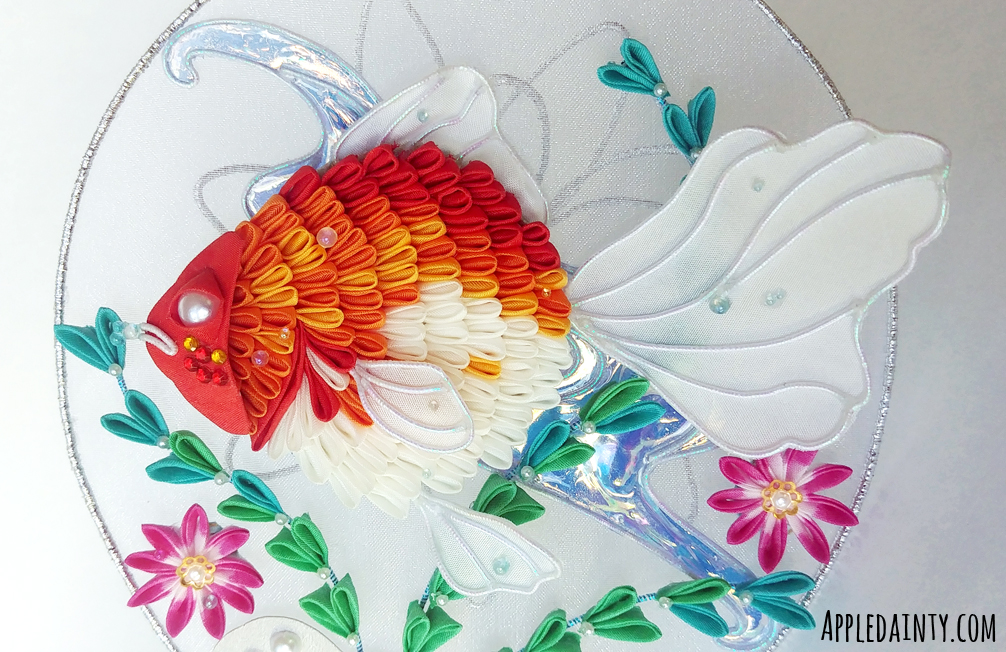 The flowers, which are water lilies, actually weren't part of my original plan. I'd only planned to do several branches of sea weed. But, after I got the sea weed in place I felt like it needed something else. Since I was working on another piece that had water lilies, and they fit the watery theme of this piece, they felt like the right fit.
The finishing touch on this piece was making the tassel that hangs from the end of the fan. I've made tassels before, so it wasn't difficult – and since I still have a huge hoard of embroidery floss on hand, I had plenty of color options to choose from. In the end, I used the same blue color that I used to bind the large wirework base flower to the forked hair pin.
As much as I enjoyed the challenge of creating the Koi & Wave Tiara last month, and the sweetness of the Bunny of the Moon Hair Pin from earlier this month, I feel like this piece is my new number one. I wrapped up my Choi Fish tsumami-ga piece yesterday, so that will be coming up on the blog soon – and this weekend I'll be trying to finish up the cherry blossom and butterfly ear cuff. I want to start something new as well, but I am not quite sure what yet. Most of the big experimental pieces I have planned require some materials that still haven't arrived in the mail yet, but it's not like I don't have plenty of smaller options available to me.
Anyhoo, if that sounds interesting to you I hope you'll join me tomorrow, on Twitch where I'll be hanging out with Hissabelle and making art! Come for the chill crafty times and drop a follow to find out when I'm live.