Autumn is well underway here in Saskatoon, which makes it a perfect time to feature some maple leaf kanzashi. Actually, with the snow we've been getting it looks more like winter here. Fall in Saskatoon is so quick you might miss it if you blink. All the leaves turned briefly, then fell rather quickly. There was snow on the ground before we even got to Halloween.
In any case, maple leafs are a traditional motif for the month of November. Maple leafs are also a pretty popular motif here in Canada. As such, I've actually done a few different varieties; this week I'm featuring maple leaf kanzashi in red-orange color that took me several tries to get right. Luckily, you can just add the silk back to the dye bath until it's right.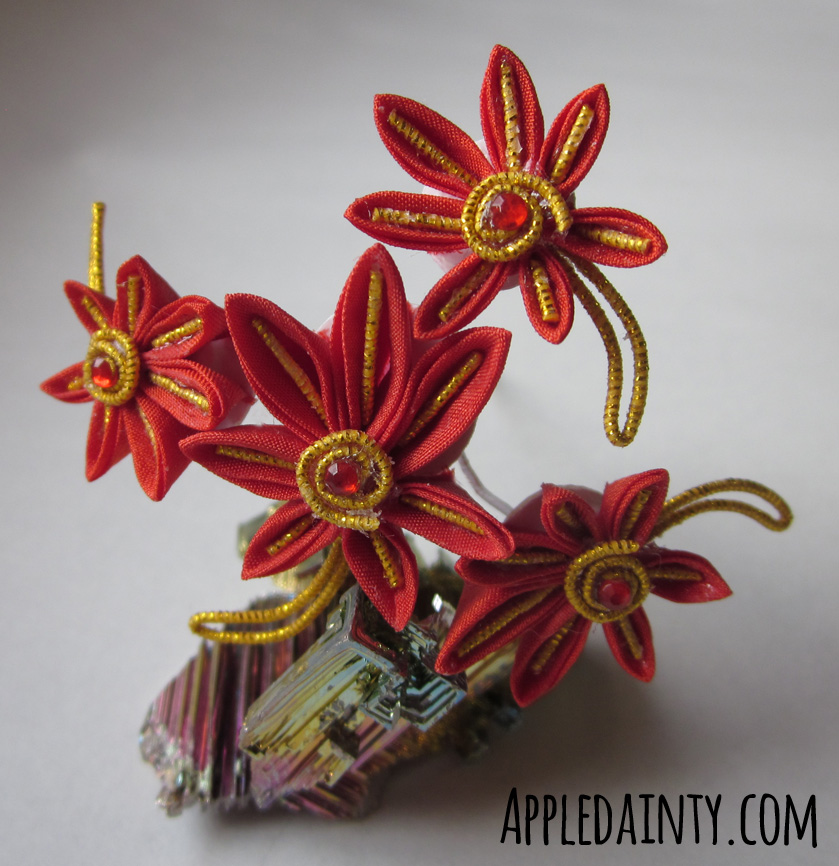 I personally find crafting maple kanzashi difficult. Because maple leafs don't have uniformly sized 'petals', it takes more concentration to get everything lined up nicely. I've found it easier to place the central, largest piece first, let it dry complete, then place the next two and so forth. I've made them all at one time before and they turned out just fine, but I feel like it was more of a struggle. It takes a little longer to let the piece dry before working on it again, but I can always work on something else while I wait. Not like I ever really run out of projects to work on!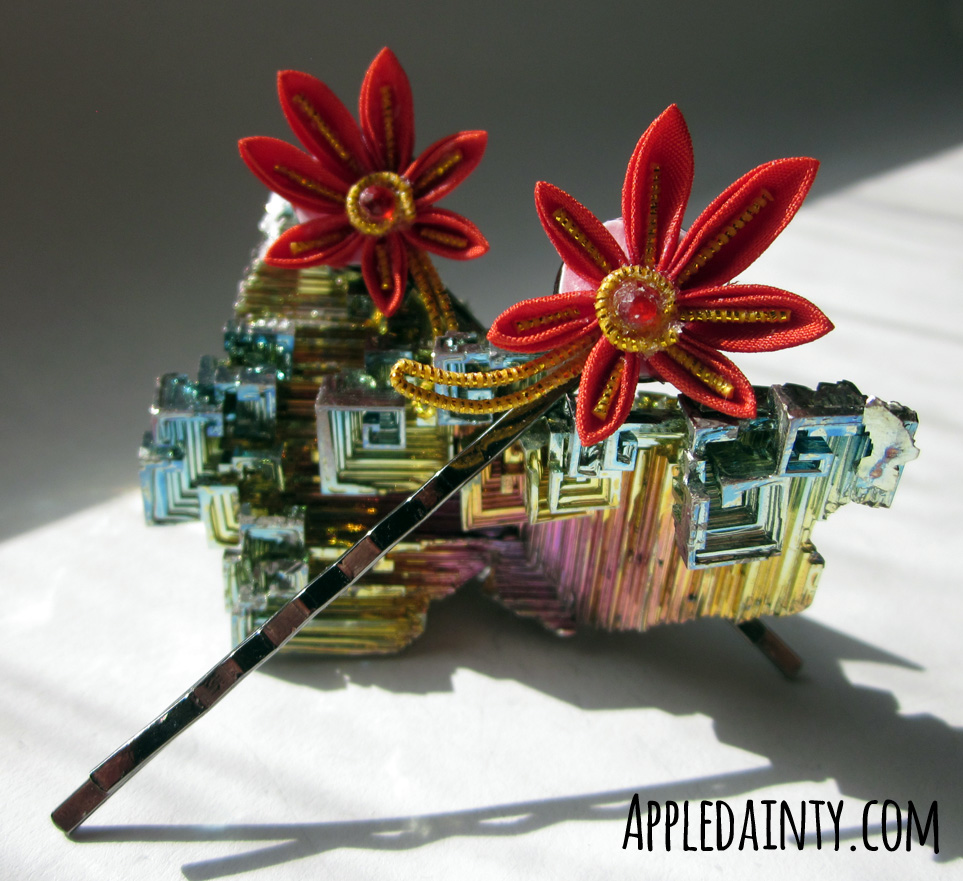 But, even though crafting maple kanzashi is a little trying, the results are very much worth it.
They definitely put me into the autumn frame of mind, and also make me think a bit of my Mom who adores the fall season – orange, maple leafs, chilly weather, Halloween, she loves it all. Although I also love Halloween, I didn't used to be a big fan of fall colors. I still don't wear very much orange (it makes me look like an oompa loompa) but my appreciation for them has grown over the years. I even did a fall colors hike at Mount Takao when I was living in Japan, which I recommend doing if you're in the area. Mt. Takao has loads of maple leafs, and a neat cable car if you don't feel like hiking the whole way.
I'm feeling a bit of pressure now that Calgary Expo Holiday Market is on the horizon, but I'm still pretty happy with how things have been rolling along. To be honest, I have to push myself a bit to finish restocking these maple leafs and still have a few more left to complete. Luckily I have a strong support system and a husband who's always happy to give me encouragement in the form of shoulder rubs, coffee and chocolate. With enough coffee and chocolate, anything is possible!
Anyway, that is all I've got for this week. Check back again next week for more art, crafts or cookery!