It's been super busy here in the studio recently, but even though I have a lot of things on the go I just don't have too many things that are finished enough that I can share them this week. That is going to change soon, I promise!
However, it's well past time that I updated the shop. And, since a lot of the new things going up in the shop are things I haven't shared with you guys in a while – remakes of older pieces mostly – I thought I'd share some photos of the new pieces going up today.
First up is not actually a remake – but a new brooch. I normally like to post my brooches in batches, but I didn't quite have this one ready for last week's blog post, so it's making its first appearance on the blog today.  It is very similar to the watercolor mossy brooch,  but this one features a deep burgundy chrysanthemum, a purple plum blssom, and a bright pink cherry blossom. I also used another one of my copperized lucite apple cabochons; they are just so darling and lend this brooch the perfect vintage touch.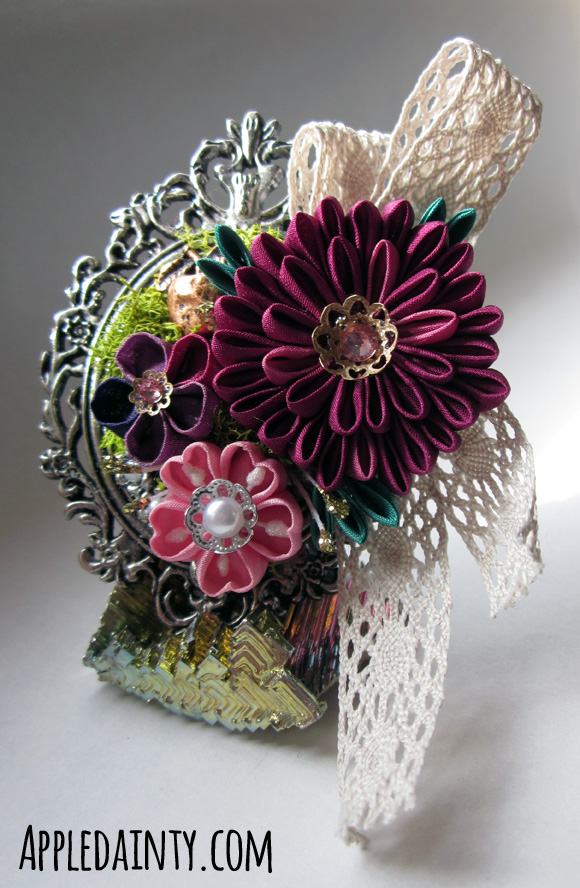 Aside from this new brooch, I'm finally getting around to stocking up the lapel pins. I actually have lapel pins for each month in the kanzashi calendar done, I just haven't photographed them all. I think my current plan is to upload the new lapel pins in their corresponding months or seasons.
Today I bring you narcissus (daffodils), canola, and camellias in white, pink and two-toned pink/white. They are simple, single-blossom lapel pins, but I think they would make a nice touch for any outfit. I'm always hoping to see my lapel pins in wedding photos; hair accessories I've seen, but not lapel pins yet. Since I've only sold lapel pins at art markets and conventions so far, I'm not really surprised, but I hope now that the etsy shop is getting stocked with them I'll see that soon!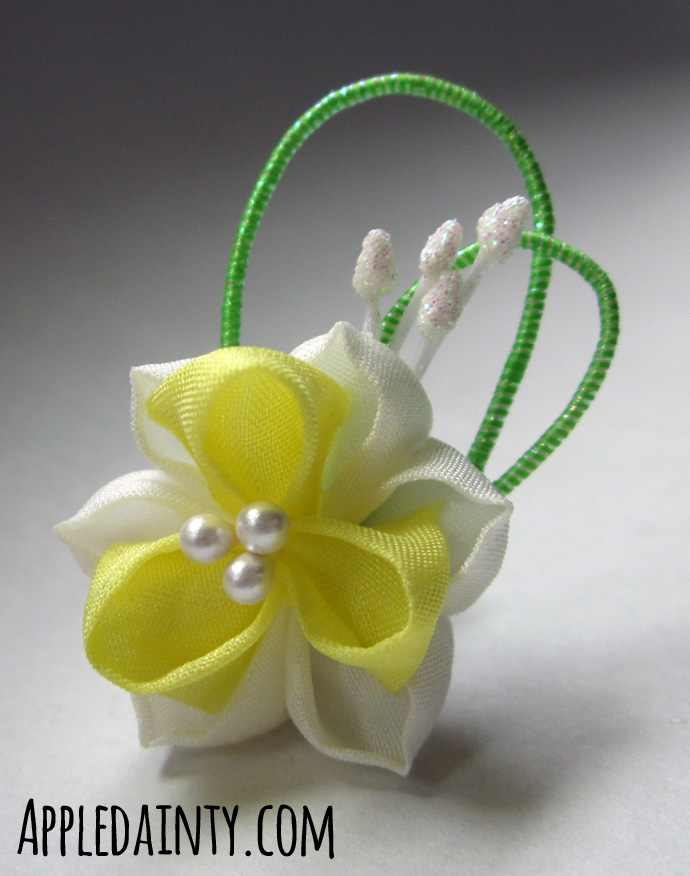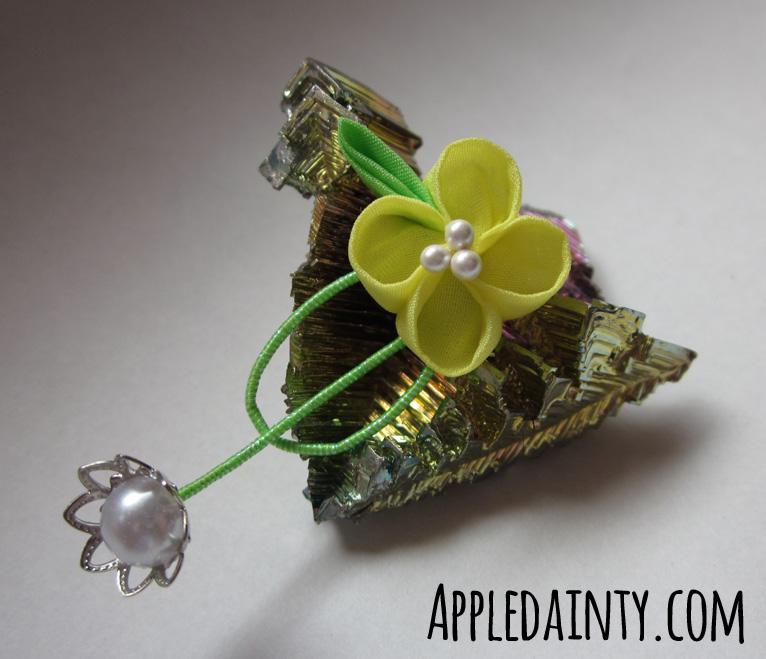 Canola blossoms look simple, with only four petals, but they are actually a pain in the butt. I did a large canola kanzashi last year, which recently sold, but I don't think I'll be doing one like it again any time soon.
Where canola blossoms are a pain in the butt, camellias are actually pretty easy. They just look complicated because of the layering. I really like making camellias, but I don't think they looked good in larger groups, so when I made medium kanzashi for the month of February, I did kusudamas with camellias as opposed to a group of camellias together.
I will need to craft another large kanzashi soon to replace the canola that sold. Since canola drive me crazy, I was thinking about doing a rose gold glitter wire spider chrysanthemum. Or maybe something with shidare (falls); it's been a long time since I've done a kanzashi with falls. Bellflowers might be fun, and I have a lot of purple squares ready to go. Or maybe some irises.
I've also always wanted to do a comb kanzashi. I have a few wooden combs, I but I've been stuck on designs for them. I want to go elaborate; not just one type of flower.  I am also debating if I should paint the combs first; the bare wood is nice, but I feel like painting would give them a more finished look.
What do you think? What kind of large kanzashi would you like to see?
Anyhoo, that is about all I've got going on for this week. Next week I'll have a fresh new project to share; something not kanzashi-related, but still pretty cool.
I hope you'll check back again next week for art arts, crafts or cookery!