This week I'm happy to present this new kanzashi hairpin that features plum blossoms and the rabbit of the moon, a mythical figure in Japanese folklore usually depicted as pounding mochi with a mortar and pestle. In terms of kanzashi motifs, mochi is associated with new years festivities, which is why I chose to add plum blossoms and a chrysanthemum to this design, as they are also a popular winter and new years motif.
It might be warm and summery right now, but I've had the idea for this kanzashi for several years and I'm glad I went ahead and worked my way through this one. I also added one of my precious bira-bira that have only two flutters and a diamond shape hanging piece. I bought a handful of this style of bira-bira thinking I would make something special for myself. I still haven't figured out what that special thing is, so I try to use these bira-bira very thoughtfully until I do figure it out.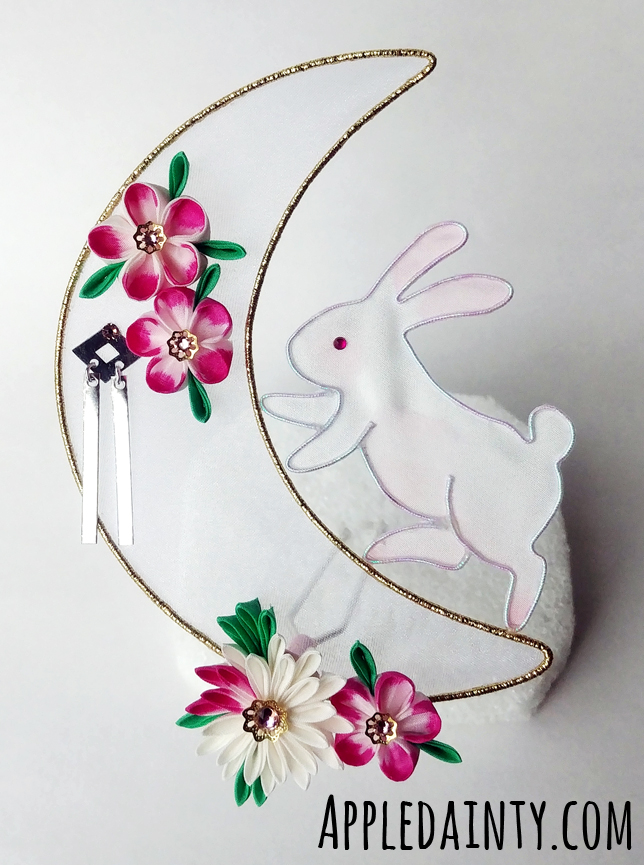 I started on this piece by forming the gold glitter wire into the shape of the moon. I secured the ends of the wire together using resin, then backed the moon with iridescent white organza using E6000 as an adhesive. Once I had the moon together, I shaped the white glitterwire to create the outline of the rabbit based on a sketch that I made. I adhered these wires together with UV resin as well, adhered white silk to the back of the rabbit wire frame, then tinted parts of the silk with very pale pink dye. The rabbit's eye is a plastic magenta rhinestone.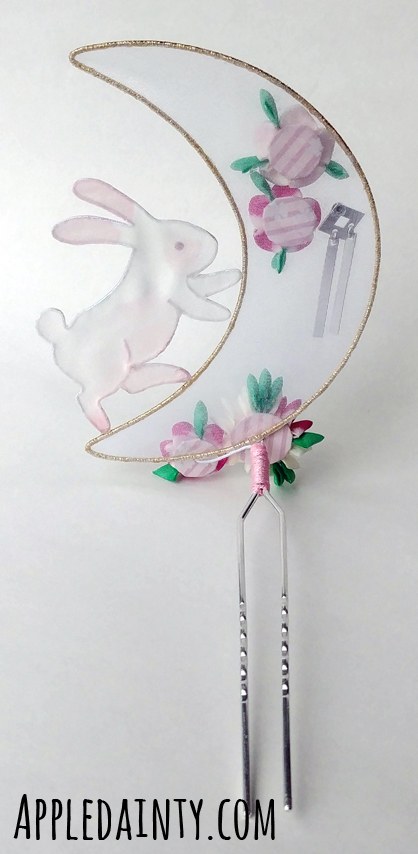 Once the two wire and fabric elements were complete, I started on the flowers. The chrysanthemum the plum blossoms at the bottom of the moon were on pieces of wire, the other two plum blossoms on the upper part of the moon were not wired. I attached the wired flowers to the hairpin base and wrapped the wires with pink thread.
After that I put the moon and bunny together with UV resin, attached the flowers and bira-bira to the upper part of the moon with E6000, then attached the fabric and wire pieces to the back of the wired flowers – also with E6000 – so that the whole thing was mounted to the hairpin.
Overall I'm very proud of how this piece came together. I'd originally planned to make this piece with pale pink and white cherry blossoms, but I really think the brighter magenta and white plum blossoms work better. The vivid pop of color brings a lot more visual interest to the piece; I think if I'd stuck with my original plan it would feel a bit washed out.
At this point I feel like I've achieved a good level of competency with wire and fabric elements.  I am now thinking I want to start moving back toward pieces that are majority tsumami craft.
A lot of well known maiko kanzashi tend to be too large for every day wear, and have lots of tsumami craft elements in varying sizes and color combinations.
The last few years my work has focused on creating accessible pieces that the average person could work into their wardrobe, or commissions for special occasions – so I've rarely explored standard-sized maiko pieces. I'm not sure I'll be working on super traditional pieces any time soon, since I want to develop an east-meets-west aesthetic, but I do want some of my upcoming projects to be a display of tsumami craft technique and arrangement instead of an exploration of new materials and techniques.
I'm still waiting for a number of the supplies I ordered a few months ago to arrive, but in the mean time I've got lots of other hair clips and fancy floral pieces to work on. If that sounds interesting to you, I hope you'll join me tomorrow, on Twitch where I'll be hanging out with Hissabelle and making art! Come for the chill crafty times and drop a follow to find out when I'm live.