Last week I launched my little collection of leather cut jewelry pieces through Kickstarter, The Flora and Fauna Collection.  This week we'll take a look at how these jewelry pieces are made, but using a Zelda twist.
When I started designing bracelets and other jewelry pieces to cut out with my Silhouette Curio, I did a lot of searching around on google hoping that someone else had already posted the best cutting settings.  I had no luck, and had to run my own tests – but now I get to pass my knowledge on to ya'll.  Today I'm going to do a full walk through of making a leather bracelet with the Silhouette Curio.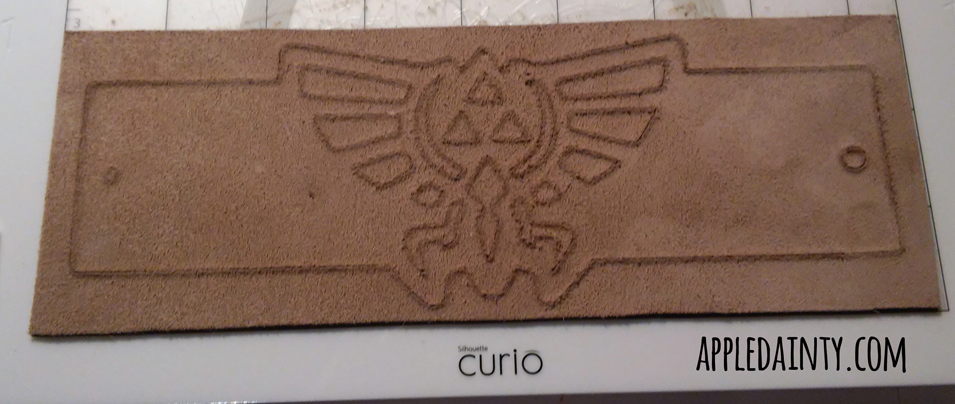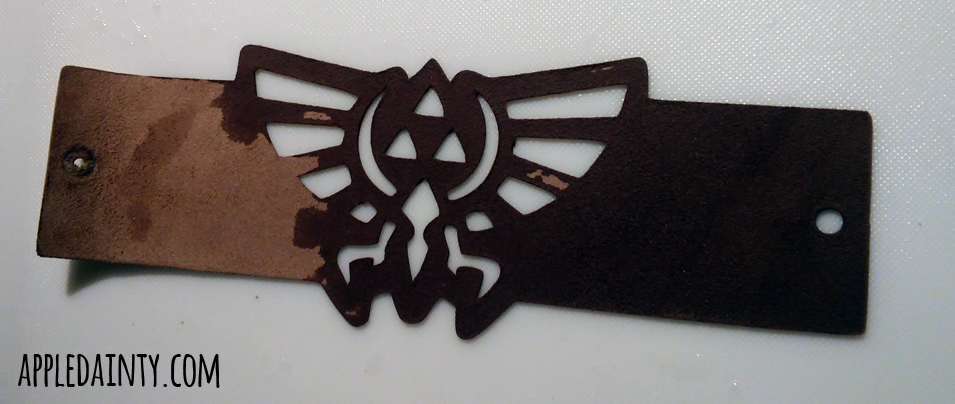 Let's start with inspiration.
A few months ago, I posted a Zelda themed Hyrule Crest pillow.  My husband is a big fan of Zelda, as are my friends, and I felt like the design could also easily translate into a bracelet
I actually drew only half the design originally, since the design is identical on both sides.  After I scanned the design into my computer, I took it into Photoshop and cleaned it up. I made a copy of the half-sized design, then flipped it horizontally and brought the two halves together.   Here's what the design looks like in black and white:
I brought the design into Silhouette Studio and used the auto tracing function on low pass setting to trace the design. I then used my custom leather cutting settings to cut the bracelet out from a piece of spare leather I had.
Here are my custom leather cutting settings: Deep Cut Blade set to 20, Platform 6, Speed 1, Thickness 33, Check Double Cut
After the design was successfully cut out, I checked all the edges by hand and cleaned up any bits that were left hanging.  I also like to treat my leather with a little bit of water to help stiffen it up. I just dab the back side of the leather with a wet paper towel until the leather changes color – not soaking wet, but wet enough to have absorbed some water.
After it's been dampened, I put the closure in place and slide the bracelet onto a wooden bracelet mandrel. I keep a little heater next to my desk to heat my feet, but I also use it to dry the leather faster. This also gives it a little bit of shape.
By the way, I bought this particular gold leather from Leather Treasure Shop on Etsy.  I love this place, they ship very fast and have excellent and responsive customer service.
Want to make your own Hyrule Bracelet? You can download the pattern for free from here. This pattern is for personal use only; please do not redistribute or sell.  You can use it in your own personal die cutting machine or, I guess, try cutting by hand? If you make one, please let me know! Either way, happy crafting! 😀