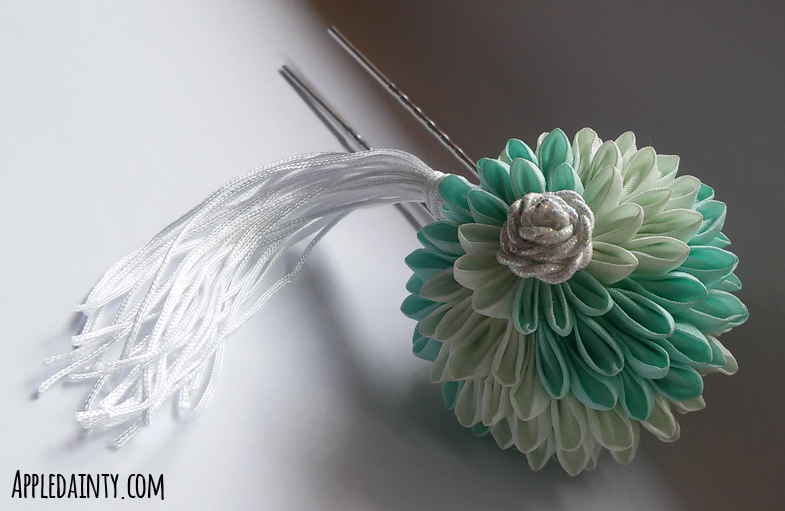 I've had this kusudama (medicine ball) sitting in a box for a long while, mostly finished but not quite. I didn't want to use it on one of my boxes because it's really large and cutting it in half to stick it on a box would make me sad; making a large kusudama is really time consuming and takes a lot of materials.
Tsumami kanzashi like these are traditionally worn by maiko (apprentice geisha) and geiko (full fledged geisha) according to the month, season and even what holidays going on. Kusudama like these are traditionally worn in February during Setsubun, which is a holiday that celebrates the coming of spring.
I finished this kusudama by attaching it to a silver tone hair fork, adding a center piece from twisted white glitter wire and a tassel. I made the tassel myself, using nylon cording and a little bit of google ingenuity.
If you like this kusudama hair fork, it's now available in the Shop.
Several blogs that I follow keep a kanzashi calendar that shows what types of kanzashi are worn during each month. Following along those lines, I've created a Kanzashi Calendar blog category under Collections. This post will of course be included in that category under February.
I'm hoping that soon I'll have lots of new kanzashi to fill my months with.  Which flowers do you think should be in each month?