Back in April I finally made use of these clear acrylic bubble clutches by making a Koi Fish Bowl Clutch. At the time, I also made a second piece of resin with a water pattern, intending to make a second clutch purse with a fancy goldfish instead of a koi. But, my first attempt at making a fishbowl clutch did not go as smoothly as intended, and I ran out of time to complete the second clutch before SaskExpo. Afterwards, I was too burnt out to think about new projects, so the resin backdrop sat in my studio desk drawer.
After my gravel grant got approved for Anime North, I knew I wanted to make as many new pieces for the event as I could – and now that it's summer, and goldfish are a summery motif, it was the perfect time to pick back up where I left off on making this clutch purse.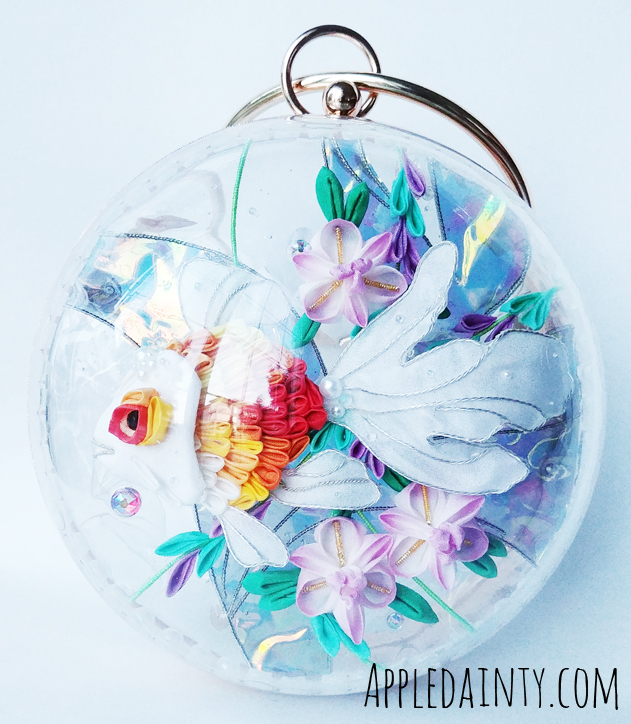 This attempt at making a fish bowl clutch went much more smoothly than the last. I didn't have to remake any resin pieces, or struggle to figure out how to get the fish to stay in the bubble. That said, I did have an incident involving glue when I was affixing the bowl section with the fish in it to the metal frame of the purse. My hand slipped a little and smeared some super glue onto the outside plastic. It wasn't anything that a little panic-fueled buffing with acrylic scratch remover and polish couldn't fix, thank goodness.
Is it really art if you didn't suffer a little while making that? I kid, of course.
I've still got two more pieces left to finish before I leave for Toronto on Thursday. I can't believe the show is coming up so soon! But, I am confident I will have everything ready in time. I've already got most of my work packed up, labels made for all my pieces, and I've even picked out what outfits I want to wear. Now I just need to finish these last few things, and do some baking.
If you're going to be at Anime North this weekend, do stop by Gallery Momiji and check out all the amazing artworks on display – including all these fanciful new pieces by yours truly.