While tsumami zaiku is normally thought of in terms of hair accessories, I've always loved finding interesting ways to implement tsumami zaiku that doesn't involve hair. I also remember wanted to be able to offer people – regardless of the length of their hair – something they can use to adorn themselves. Although I've made brooches, obidomes, and other various accessories, ear cuffs still remain my favorite.
Like a lot of nerds, I love Lord of the Rings. When I was younger, I had a bit of a fascination with elves, and always thought that ear cuffs would be the type of thing an elf would wear – highlighting their ears and so forth. Although, I've always considered myself more of a hobbit than an elf. I'm short and plump and really enjoy my many, various meals.
In May, both of the existing ear cuffs that I made previously were sold. It tickled me greatly that a couple bought them, and wore them together. They noticed that one of the ear cuffs was for the left ear, and the other was for the right – and they both had side cuts, I believe, that were opposite sides. So, the ear cuffs being made for opposite sides worked out perfectly for them.
I've always preferred concentrating my time on creating unique pieces, instead of producing the same pieces over and over – although I do a little of that too with lapel and hair pins. It's always so much more satisfying when something unique finds the right person to go home with.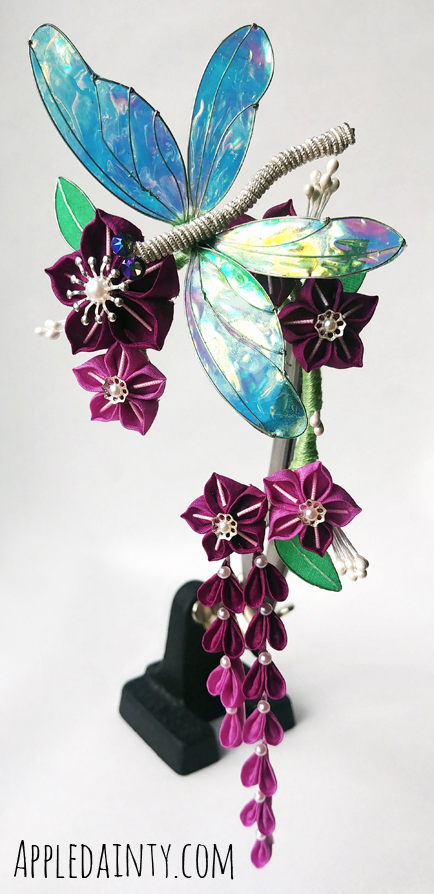 For me, surprise and delight is always the goal. I love showing at conventions, and one of the things that amuses me most is when someone passes by my table a few times, then finally sees it. Often, they take on a vaguely stunned look, before coming over to exclaim, "How did I miss this table?"
But, that is actually built into my set up. I've been attending conventions for a long time, and over the years I've seen convention set ups grow larger and more cumbersome – requiring a ton of packing, loading, and setting up time. Personally, I detest this – although I totally understand it and don't begrudge other people in their goals to make really cool, complex displays. Instead, I wanted to take a more laid back approach, inspired by the Studio Ghibli stores I saw in Japan.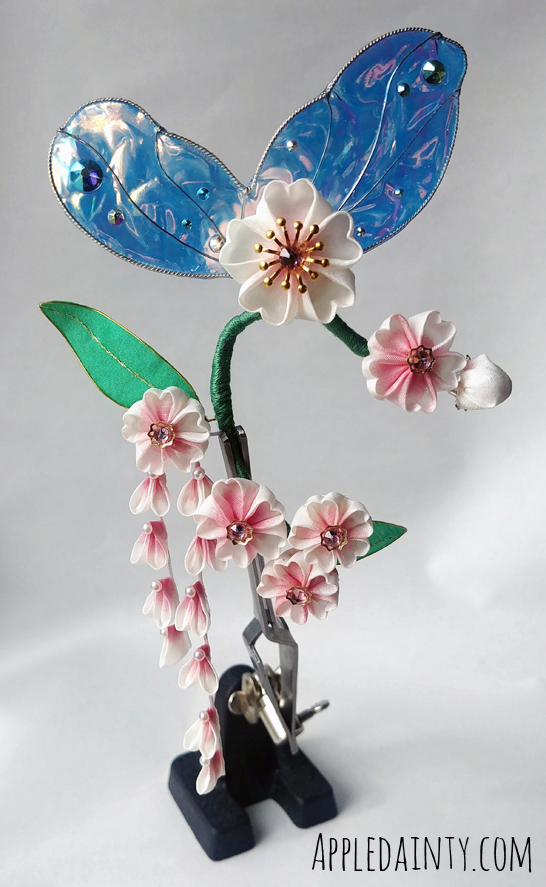 Although Ghibli is a huge deal in Japan, their stores have a tendency to be tucked away – hidden but not quite – so that if you run across one in the wild it feels like you've stumbled into something magical. The Ghibli Museum has the same feel, being tucked away in a suburban area of Tokyo, built into a park that shields it from direct view with a stands of trees.
That's what I'm aiming for when I go to shows. While the other booths loom large around me with walls of prints, I'm sort of hidden but not quite. Peoples' eyes might skim over my head a few times before finally landing on my table, full of silk and sparkles.
Speaking of silk and sparkles, I'm pretty pleased with how these resin and holographic film wings turned out. I actually repurposed the large butterfly wing from a failed project, and the dragonfly was originally part of an obidome I made a while back. I have a few butterfly obidome as well that I'm considering taking apart. I just know that there isn't really much of an audience for obidome in my area and most of the shows that I do are local.
I also salvaged some leaves and other parts from a wisteria kanzashi, which I'll be using in several pieces – including these. I was never really happy with how that wisteria turned out. I remember hemming and hawing about whether or not I even wanted to finish it, but I pushed myself to do so anyway. Lesson learned; if it doesn't feel right then don't follow through with it.
But, that's not to say it was a total waste of time. I learned something from the process of making it, and salvaged quite a lot of pieces from it that saved me time and effort on these new pieces. Hopefully, these are more successful than their predecessors!
That's three of the eight new pieces I planned to make for Anime North down, and hey…I still have about a week left to go! Don't worry, even though that sounds like very little time most of the new pieces are in their final stages – two more are complete and just need photographing, two only require a little bit more work and will get done this weekend. Ok, so the last one is nowhere near completion, but it's going to be my wisteria redemption pieces, and I'll have most of next week to finish it. It'll be fine! I just need to finish the dye work, set the dye, starch everything and, you know…start crafting all the flowers. Oof.
In all honesty, my time management has been pretty good in the lead up to Anime North. I'm even wondering if I might not have time to finish a few more little projects before I leave, haha. That said, I have to give a shout out to my amazing husband for being so supportive; I definitely couldn't do what I do without him.
If you're going to be in Toronto next week, I hope you'll get the chance to check out Anime North and my new works in Gallery Momiji. 🙂